User-friendly Web3 solutions for
secure data management

in B2B and B2C.
WeSendit 3.0
Under construction
With more than 2.85 billion data records processed through our wesendit.com platform, we have gathered important information and insights about competitors and customers since our launch in 2013. Furthermore, thanks to our knowledge and innovation advantage, which we have continuously expanded in recent years, our international customers can use decentralized applications with the WeSendit 3.0 version.
2.85 billion data transmissions
Over 10,000 support analyses
Cloud Computing Analytics
Insights from
10 years
experience
When participating in the Swiss Innovation Challenge of the University of Applied Sciences Northwestern Switzerland, WeSendit prevailed against more than 100 other companies and achieved second place.
You alone

control your data
Secure access to your stored data in the cloud.
Maximum safety is standard
Your data is encrypted end-to-end when it is sent and is securely encrypted at all times, even in standby mode.
Geo-redundant storage
WeSendit sends your data over the network you choose. Your data is stored redundantly across thousands of availability zones worldwide.
Manage easier
Switch networks by specifying a different configuration option or with a single click. All without code changes.
Your privacy remains private
We check your data anonymously - thanks to a blockchain consortium network that is not publicly visible.
Backup & Restore
Single point of failure? No longer exists. Optimize your backup strategy with our WEB3-powered, fully managed backup and recovery object storage platform.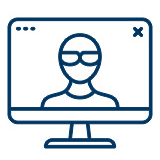 Anonymous transactions
The Zero-Knowledge-Proofs algorithm allows you to make shielded transactions.
It's easier with "Pay as you go": Your costs are always under control.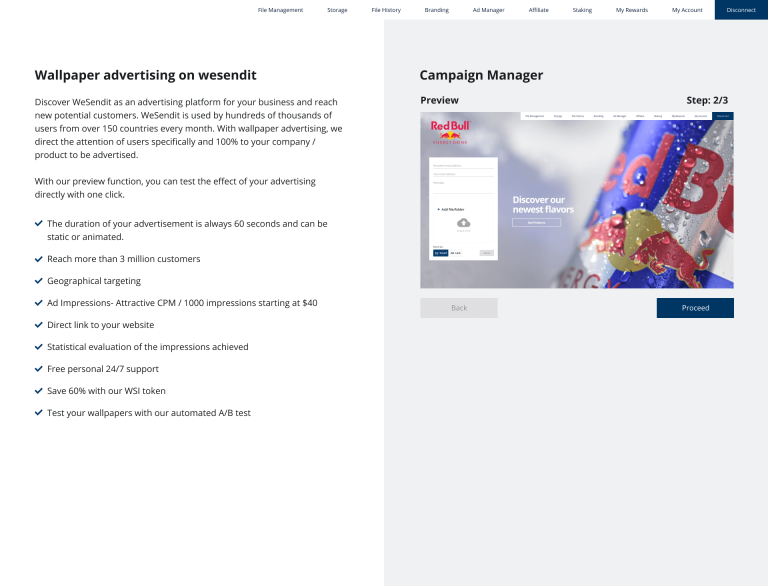 Ad Manager:

All eyes are on you

With WeSendit as an advertising platform, you can reach new customers for your company. Hundreds of thousands of people from over 150 countries use our service every month. With wallpaper ads (2560 x 1440 pixels), you draw 100% of the user's attention to your company or product. In addition, with the WeSendit token, you save up to 60% on your booking.
Sell your

digital products
You can share your encrypted data with customers, business partners or friends via a paid download link. Then, create your link within seconds and sell your digital products through WeSendit - without any e-commerce system.
Branding

service

As a business or premium user, you can present the data transfers in your company's corporate design. You define your own URL and guarantee your company a professional appearance in a few steps. First, optimize your downloads with custom backgrounds or layouts for email notifications with a recognition value.
Our solutions

for companies
For companies, we develop user-friendly data processing tools. In this way, we enable them to transition from frontend-based Web2 applications to Web3 backend technologies seamlessly.
Storage upgrades

have never been so flexible


Do you need more space? Upgrade your storage through our partner network - quickly and without delay. Thanks to our Web3.0 technology network partners, storage limitations are history. Save up to 80% compared to the big cloud providers and only pay for what you use. All your costs are 100% transparent.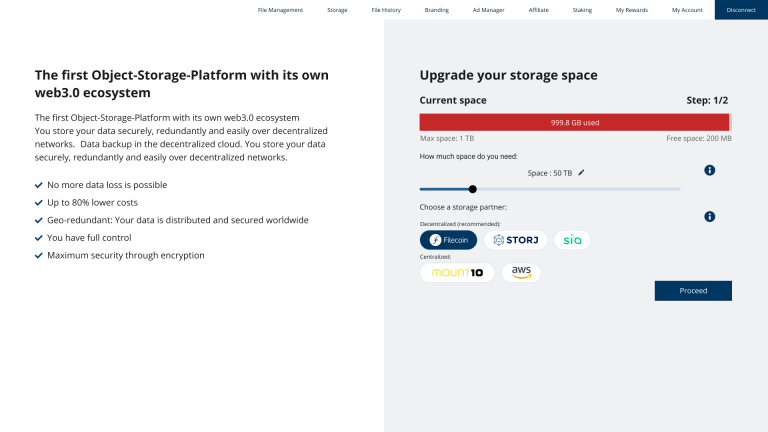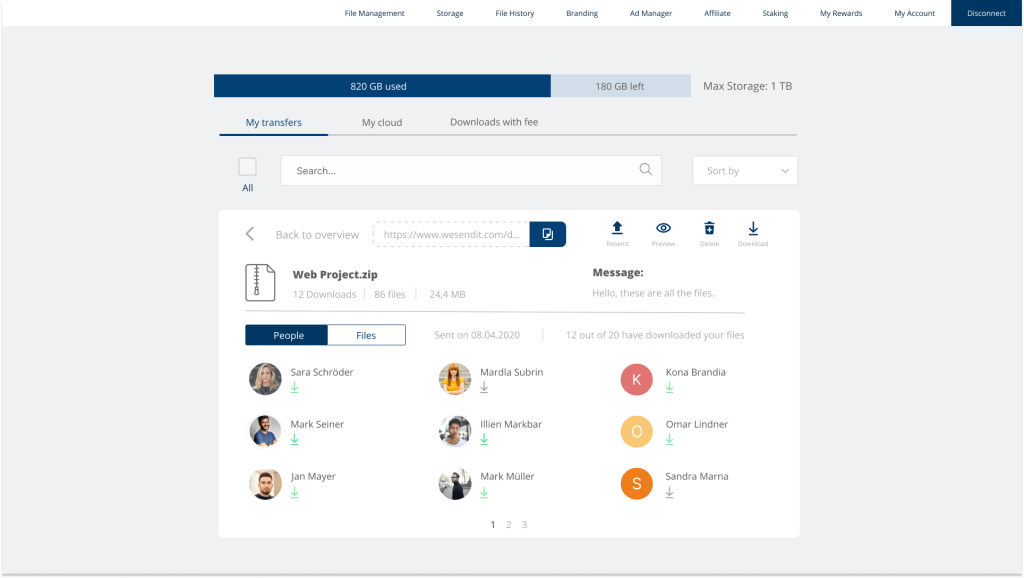 Team

Management

Share files, data and folders and customize your data management to fit your team's needs. Collaborate with internal and external teammates through a secure and intuitive user interface.
File Chronicle

& Management

Manage your data and folders more accessible than ever. The system automatically logs every data transfer in your encrypted data history and informs your recipients about download activities. Drag and drop to place your data in the Object Partner storage network of your choice and retrieve it when needed. You alone have control over your private key - and are the sole owner of your data.